Enter your mobile number or email address below and we'll send you a link to download the free Kindle App. Then you can start reading Kindle books on your smartphone, tablet, or computer - no Kindle device required.
Apple

Android

Windows Phone

Android
To get the free app, enter your mobile phone number.

Introduction to Evolutionary Informatics
1st Edition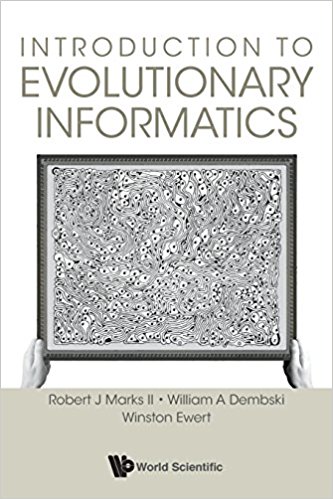 ISBN-13: 978-9813142145
ISBN-10: 9813142146
Why is ISBN important?
ISBN
This bar-code number lets you verify that you're getting exactly the right version or edition of a book. The 13-digit and 10-digit formats both work.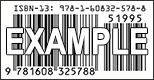 Scan an ISBN with your phone
Use the Amazon App to scan ISBNs and compare prices.
Only 5 left in stock (more on the way).
Ships from and sold by Amazon.com. Gift-wrap available.
Want it Saturday, Dec. 23?
Order within
21 hrs 45 mins
and choose
Two-Day Shipping
at checkout.
Details
$47.98 Only 5 left in stock (more on the way). Ships from and sold by Amazon.com. Gift-wrap available.
---
Frequently bought together
---
Customers who bought this item also bought
This shopping feature will continue to load items. In order to navigate out of this carousel please use your heading shortcut key to navigate to the next or previous heading.
---
What other items do customers buy after viewing this item?
---
Editorial Reviews
Review
An honest attempt to discuss what few people seem to realize is an important problem. Thought provoking! -- Gregory Chaitin "Professor, Federal University of Rio de Janeiro, Brazil"

With penetrating brilliance, and with a masterful exercise of pedagogy and wit, the authors take on Chaitin's challenge, that Darwin's theory should be subjectable to a mathematical assessment and either pass or fail. Surveying over seven decades of development in algorithmics and information theory, they make a compelling case that it fails. -- Bijan Nemati "Jet Propulsion Laboratory, California Institute of Technology, USA"

Introduction to Evolutionary Informatics is a lucid, entertaining, even witty discussion of important themes in evolutionary computation, relating them to information theory. It's far more than that, however. It is an assessment of how things might have come to be the way they are, applying an appropriate scientific skepticism to the hypothesis tha -- Donald Wunsch "Distinguished Professor and Director of the Applied Computational Intelligence Lab, Missouri University of Science & Technology, USA"

Darwinian pretensions notwithstanding, Marks, Dembski, and Ewert demonstrate rigorously and humorously that no unintelligent process can account for the wonders of life. -- Michael J Behe "Professor of Biological Sciences, Lehigh University, USA"

A very helpful book on this important issue of information. Information is the jewel of all science and engineering which is assumed but barely recognised in working systems. In this book Marks, Dembski and Ewert show the major principles in understanding what information is and show that it is always associated with design. -- Andy C McIntosh "Visiting Professor of Thermodynamics, School of Chemical and Process Engineering, University of Leeds, LEEDS, UK"

Though somewhat difficult, Marks, Dembski and Ewert have done a masterful job of making the book accessible to the engaged and thoughtful layperson. I could not endorse this book more highly. -- J P Moreland "Distinguished Professor of Philosophy, Biola University, USA"

This is an important and much needed step forward in making powerful concepts available at an accessible level. -- Ide Trotter "Trotter Capital Management Inc., Founder of the Trotter Prize & Endowed Lecture Series on Information, Complexity and Inference (Texas A&M, USA)"

This is a fine summary of an extremely interesting body of work. It is clear, well-organized, and mathematically sophisticated without being tedious (so many books of this sort have it the other way around). It should be read with profit by biologists, computer scientists, and philosophers. -- David Berlinski "David Berlinski"

Evolution requires the origin of new information. In this book, information experts Bob Marks, Bill Dembski, and Winston Ewert provide a comprehensive introduction to the models underlying evolution and the science of design. The authors demonstrate clearly that all evolutionary models rely implicitly on information that comes from intelligent desi -- Jonathan Wells "Senior Fellow, Discovery Institute"

Introduction to Evolutionary Informatics helps the non-expert reader grapple with a fundamental problem in science today: We cannot model information in the same way as we model matter and energy because there is no relationship between the metrics. As a result, much effort goes into attempting to explain information away. The authors show, using c -- Denyse O'Leary, Science Writer "Denyse O'Leary, Science Writer" --This text refers to the Hardcover edition.
About the Author
Robert J Marks II is Distinguished Professor of Engineering in the Department of Engineering at Baylor University, USA. Marks's professional awards include a NASA Tech Brief Award and a best paper award from the American Brachytherapy Society for prostate cancer research. He is Fellow of both IEEE and The Optical Society of America. His consulting activities include: Microsoft Corporation, DARPA, and Boeing Computer Services. He is listed as one of the "The 50 Most Influential Scientists in the World Today." By TheBestSchools.org. (2014). His contributions include: the Zhao-Atlas-Marks (ZAM) time-frequency distribution in the field of signal processing, and the Cheung Marks theorem in Shannon sampling theory.

Marks's research has been funded by organizations such as the National Science Foundation, General Electric, Southern California Edison, the Air Force Office of Scientific Research, the Office of Naval Research, the United States Naval Research Laboratory, the Whitaker Foundation, Boeing Defense, the National Institutes of Health, The Jet Propulsion Lab, Army Research Office, and NASA. His books include Handbook of Fourier Analysis and Its Applications (Oxford University Press), Introduction to Shannon Sampling and Interpolation Theory (Springer Verlag), and Neural Smithing: Supervised Learning in Feedforward Artificial Neural Networks (MIT Press) with Russ Reed. Marks has edited/co-edited five other volumes in fields such as power engineering, neural networks, and fuzzy logic. He was instrumental in defining the discipline of computational intelligence (CI) and is a co-editor of the first book using CI in the title: Computational Intelligence: Imitating Life (IEEE Press, 1994). His authored/coauthored book chapters include nine papers reprinted in collections of classic papers. Other book chapters include contributions to Michael Arbib's The Handbook of Brain Theory and Neural Networks (MIT Press, 1996), and Michael Licona et al.'s Evidence for God (Baker Books, 2010), Marks has also authored/co-authored hundreds of peer-reviewed conference and journal papers.

William A Dembski is Senior Research Scientist at the Evolutionary Informatics Lab in McGregor, Texas; and also Senior Fellow with Seattle's Discovery Institute, Washington, USA. He holds a BA in Psychology, MS in Statistics, PhD in Philosophy, and a PhD in Mathematics (awarded in 1988 by the University of Chicago, Chicago, Illinois, USA), and an MDiv degree from Princeton Theological Seminary (1996, New Jersey, USA). Dembski's work experience includes being an Associate Research Professor with the Conceptual Foundations of Science, Baylor University, Waco, Texas, USA. He has taught at Northwestern University, Evanston, Illinois, USA; the University of Notre Dame, Notre Dame, Indiana, USA; and the University of Dallas, Irving, Texas, USA. He has done postdoctoral work in mathematics with the Massachusetts Institute of Technology, Cambridge, USA; in physics with the University of Chicago, USA; and in computer science with Princeton University, Princeton, New Jersey, USA. He is a Mathematician and Philosopher. He has held National Science Foundation graduate and postdoctoral fellowships, and has published articles in mathematics, engineering, philosophy, and theology journals and is the author/editor of more than twenty books.

Winston Ewert is currently a Software Engineer in Vancouver, Canada. He is a Senior Research Scientist at the Evolutionary Informatics Lab. Ewert holds a PhD from Baylor University, Waco, Texas, USA. He has written a number of papers relating to search, information, and complexity including studies of computer models purporting to describe Darwinian evolution and developing information theoretic models to measure specified complexity.
---
---
Customer reviews
Rated by customers interested in
Machine Learning
5.0 out of 5 stars
Computer Science
5.0 out of 5 stars
Computer Books
5.0 out of 5 stars
Thank you for your feedback.
Top customer reviews
There was a problem filtering reviews right now. Please try again later.
May 29, 2017
Format: PaperbackVerified Purchase
Quoting Richard Dawkins: "Biology is the study of complicated things that give the appearance of having been designed for a purpose." So we are supposed to believe that all the complex design found in the cell is a result of the of chance mutations that have been allowed to accumulate via natural selection; the survival of the fittest.

The video Unlocking the Mystery of Life was released in 2003 and in the concluding remarks, Stephen Meyer claimed that information is now of primary importance in understanding all of life. Quoting Norbert Wiener from the 1940's: "Information is information, neither matter or energy".

Marks, Dembski and Ewert, the authors of Introduction to Evolutionary Informatics have been the pioneers in formulating and developing the foundations of the science of evolutionary informatics. The results of their research show that life did not and could not have happened by chance.

For most of us, including most of the biologists, this extension of science into information is shaking the foundations of science. The fine tuning of the universe, the beginning of life, the first cell and the ordering of the bases along the DNA are all examples of how important information has become in the last 50 years. The title of this book informs us that Evolutionary Informatics is now the heart of the Darwin vs Design controversy.

All biologist, especially the evolutionist, need to read this book since evolutionary informatics is critical for understanding how random mutations and natural selection can not be the basis of life.

For me, evolutionary informatics is the coup de grâce – a final blow or shot given to kill a wounded person or animal. In this case the wounded Darwinian evolution.

The work of Marks, Dembski and Ewert at their Evolutionary Informatics Lab is at the leading edge of scientific research.
June 4, 2017
Format: PaperbackVerified Purchase
This is much more easily understood than I expected. The math is very easy to follow. It's filling in a lot of gaps in my understanding of some very important aspects of Intelligent Design.
June 2, 2017
Format: Paperback
I was given an advanced copy of the book for review, and I was happy that I was selected. The book does a very good job of simplifying the concepts of evolutionary algorithms, fitness terrains, and information theory. The authors demonstrate very clearly why evolutionary algorithms are very limited in their ability to produce anything truly novel. They simply find what they were programmed to find. For instance, a program designed to generate a better way to play chess will never learn how to play backgammon. And, the programmer had to provide information about the desired results in advance. The implications for biological information are significant - natural selection and mutations are able to slightly improve an existing animal, such as causing sheep to produce thicker wool, but they can never change a mouse into a sheep.

The authors also expose how evolutionary algorithms alleged to produce novel results, such as Avida, actually had significant amounts of information related to the desired target hidden in the program. Sections also effectively address common criticisms of the authors' claims. And, other topics are explained, such as a novel way to measure functional information, the implications for artificial intelligence, and the case for intelligent design in nature.
August 31, 2017
Format: Kindle EditionVerified Purchase
I've been a software engineer for almost 40 years and I always had the feeling that there was something wrong with random mutation and natural selection creating complex systems. That doesn't work for writing software and so why would it work for DNA?

This book took my feelings about the subject and laid them out mathematically. Now it's much more clear where those feelings came from and why undirected evolutionary mechanisms can't work. Great book!
August 11, 2017
Format: Kindle EditionVerified Purchase
Amazing read. Computer simulations that attempt to validate Evolution do exactly the opposite. All programs are programmed.
August 2, 2017
Format: PaperbackVerified Purchase
This is a fine Introductory text.
August 5, 2017
Format: PaperbackVerified Purchase
Yup, Darwin was wrong, and so are all those who believe mutations can create information.
June 19, 2017
Format: PaperbackVerified Purchase
Set up an Amazon Giveaway

Amazon Giveaway allows you to run promotional giveaways in order to create buzz, reward your audience, and attract new followers and customers.
Learn more about Amazon Giveaway
This item: Introduction to Evolutionary Informatics

Please tell us about the issue.
Comments (optional)
Thank You!
Your feedback helps us make Amazon shopping better for millions of customers.