A few years ago I asked my wife if she would like an activity monitor for her birthday, to help automatically track her calories. To my surprise she answered, "Does it automatically track the calories I eat?" I told her that that was crazy and not possible. She replied, "Then I don't want it!" For her birthday she still got a Fitbit™ activity monitor from me (and loves it), but I got something as well…an idea was born as I began to challenge whether this really was crazy and impossible.
We are developing advanced sensor technology to make estimation of dietary calories in food as simple as the touch of a button. Check out our video highlighting this technology:
Weight-loss and weight-management comes down to maintaining the right balance of calories consumed and calories burned. There are more than 100 million American dieters and more than 80% prefer a do-it-yourself approach. We are accustomed to machines telling us how many calories we burn, from displays on treadmills to the more recent trend towards wearable activity monitors (quickly becoming a billion dollar market). The activity monitors use sensor technology, like accelerometers and altimeters, to translate your daily body movements into an estimate of your daily calorie burn. But, monitoring your calories consumed is a different story.
There are plenty of apps that help you track what you eat. But how well does that burger you ate match with the burger you selected using an app? Are the serving sizes the same? Do any of the app database entries accurately reflect what you cook at home? It takes motivation and time to track calories and that can be a deterrent for people. Many of those who do track calories tend to under-report their actual food consumption. Then there are the calorie listings displayed on restaurant menus, which some reports suggest are significantly off.
While tools do exist to make tracking calories easier, true automation of calorie counting the food you actually eat does not yet exist. The solution may be to use advanced sensor technology to measure the actual meal that you eat, rather than relying on an archived database of values.
My team and I at GE Global Research are developing advanced sensor technology to make estimation of dietary calories in food as simple as the touch of a button. At the early stages I wrestled with whether it was possible and discovered that calories can be faithfully estimated with just three measurements: weight, fat content and water content. Our team at GE and our collaborators at Baylor University's Electrical & Computer Engineering Department have found calorie estimation to be possible in principle, putting together devices to measure calories in different mixtures of oil, water and sugar. The devices use advanced sensor technology to estimate the fat content, water content and weight of the food in order to automatically calculate dietary calories. Right now we have only an early prototype, and we are hopeful that further development of this technology will result in a pushbutton device that will provide calorie content of your meal in an instant.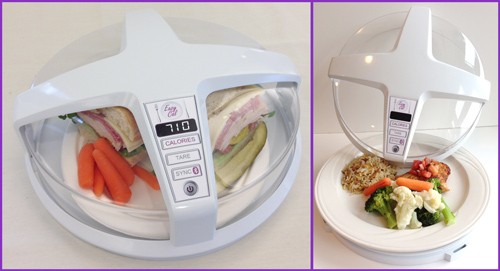 What does the future look like to me? I can see an activity monitor, Calorie Counter and a wireless scale all working together to allow you to monitor your calorie balance and the results on the scale; all with minimal effort on your part (except for the exercise). All of this data will be easily accessible on your tablet or smartphone; maybe difficulty and time will no longer be a deterrent. I can also see such a device better educating people on what they are eating. Pop in your meal and you might say, "Wow, I can't believe that is 1200 calories, maybe I will just eat half." My hope is that this technology will eventually become a common part of every household and better equip us to lead healthier lives and combat obesity.