May 20, 2008
Too Conservative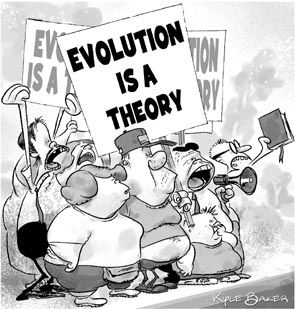 For those who haven't seen Ben Stein's EXPELLED yet, I highly recommend it.
The movie centers on the concept of Intelligent Design and why modern "academia" has such a big problem with it.
A lot of the movie is about Baylor University(where I am attending) where an Intelligent Design Institute was founded and later dissolved. Full clippings of the account can be found here.
Oddly, when I was working in Iowa for Gov. Huckabee I recognized the founder of the institute, William Dembski at an event. Dr. Dembski appears numerous times throughout the movie and was the center of one of the largest controversies in my school's history.
After bumping into him around Waco a few days ago, Dr. Dembski has agreed to come on to TooConservative to discuss the issue and take questions via podcast.
I'll have more to come in the days ahead, but in the meantime….go check out Expelled…and please let me know in this thread "WHAT DO YOU THINK OF INTELLIGENT DESIGN?"